Actual Client Testimonial
Before Aquapol
Severe water seepage. Wall sealants are ineffective. Towels and bricks are used in a futile attempt to stop water seepage from below ground.
After Aquapol
The Aquapol device is installed in September 2017. This photograph taken one month later in October 2017 shows the water seepage from below ground has been sufficiently arrested to allow the floor to be retiled. This home in Dowerglen, east of Johannesburg, was virtually uninhabitable due to the serious moisture problems and the resultant mould and micro-organisms that had taken up residence in the home.
Home owner Larry Fitzroy says: "I was a bit sceptical to be honest, since Aquapol is a device with no electrical connections or moving parts. But I was curious to see if it would work. I had a virtual river in the passageway, and the home could not be rented out. The problem was that serious, so I decided to go with Aquapol which made more sense to me than the other alternatives, such as chemical injections in the wall – which I had tried before, but which had failed. So I had Aquapol installed. Within 24 hours I noticed that the water had stopped flowing into the passageway. A month later I was able to retile the floor." Note: Drying-out period varies and typically takes many months, but – as in Larry Fitzroy's case – results are sometimes visible in a much shorter period of time.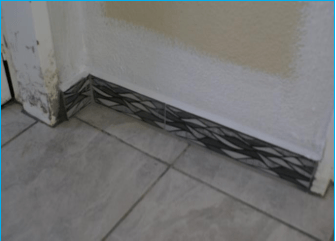 Aquapol is the green solution to healthy, dry buildings
Scientific studies carried out by Professor K. A. Lotz, a leading German scientist in the area of building biology, proved astonishing positive effects of the Aquapol system. "Interviews with people who had an Aquapol device installation in their room, revealed the following biological effects: better sleep and well-being a better room climate even in geologically disturbed houses". A natural earth field is influenced in its intensity by a watercourse or other geological factors. A watercourse acts like a lens on the earth field and amplifies this in its intensity. The Aquapol system is capable of suppressing this intensity and creates a proportionate (homogeneous), natural and biologically positive radius of action.
The service that Aquapol offers includes a damp analysis and the preparation of a comprehensive report and damp eradication plan with details of work and costs. The dehydration is then achieved by the installation of a specific Aquapol device, which must be located in exactly the right spot according to a series of different measurements and salt tests from samples taken from different areas of the walls in the building.
Aquapol receives the 'Grand Prix' Award for Monument Conservation in Poland 2006
"The fact that the polish Jury for Monument Conservation on the 11th Trade Fair (Conservation 2006) has awarded our technology with the 'Grand Prix' for their clean and eco-friendly drying of rising damp proves once again that the Aquapol system, especially for listed buildings, is the best suitable way." Explained engineer Wilhelm Mohorn, the Austrian inventor of the Aquapol Method. Mohorn alludes on the demand; local conservationists have on a system that works without any intrusions into walls and without any electricity.